The Book Design Concept
My clients Dinatarini Devi and Kartamasa wanted this book design to be "Yamuna"—what inspired her, what she liked in terms of design and colors. To that end, they wanted a professional and high quality design, symmetrical, beautiful with a decorative Indian flair, inspired by Yamuna's Deity Book and other artwork. They wanted rich spice colors—maroon, gold, burnt orange, inspired by the cover art for the second release of Yamuna's cookbook Lord Krishna's Cuisine. Getting the right mood for the decorative elements was critical—rich and elegant but not over the top.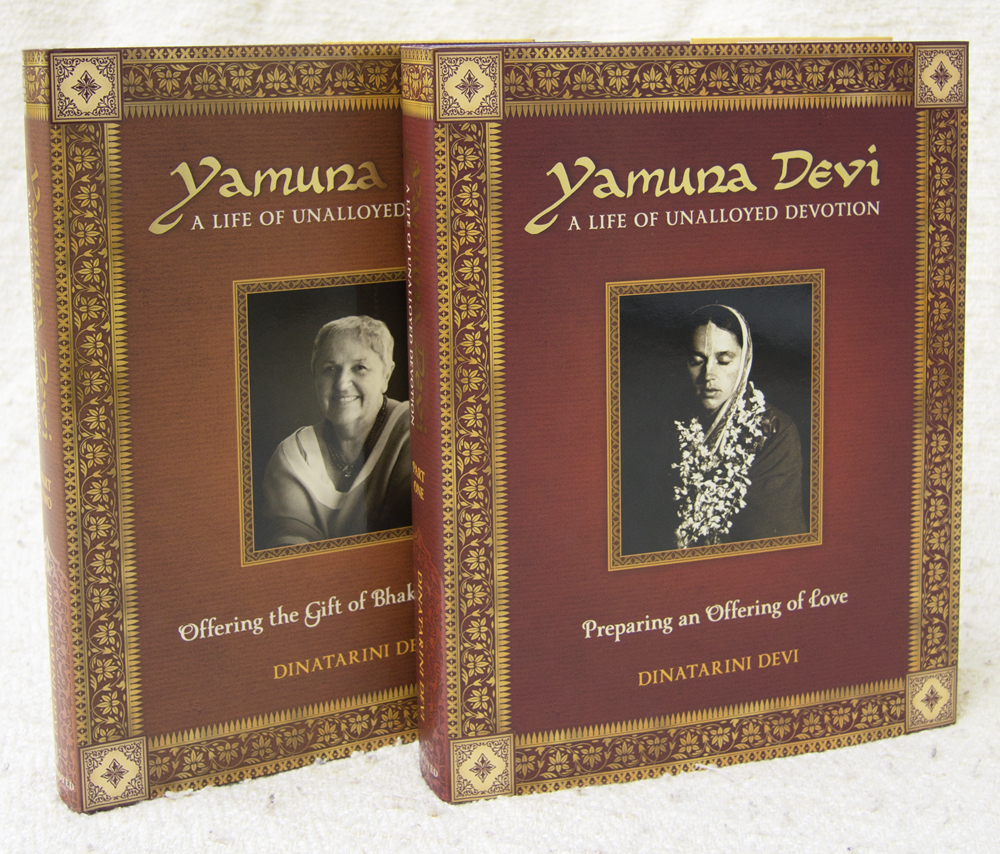 Back Cover Design
In decorating her home in Saranagati, Yamuna created a series of beautiful painted stained glass style designs. Two of these stained glass designs grace middle of the mandalas on the back cover.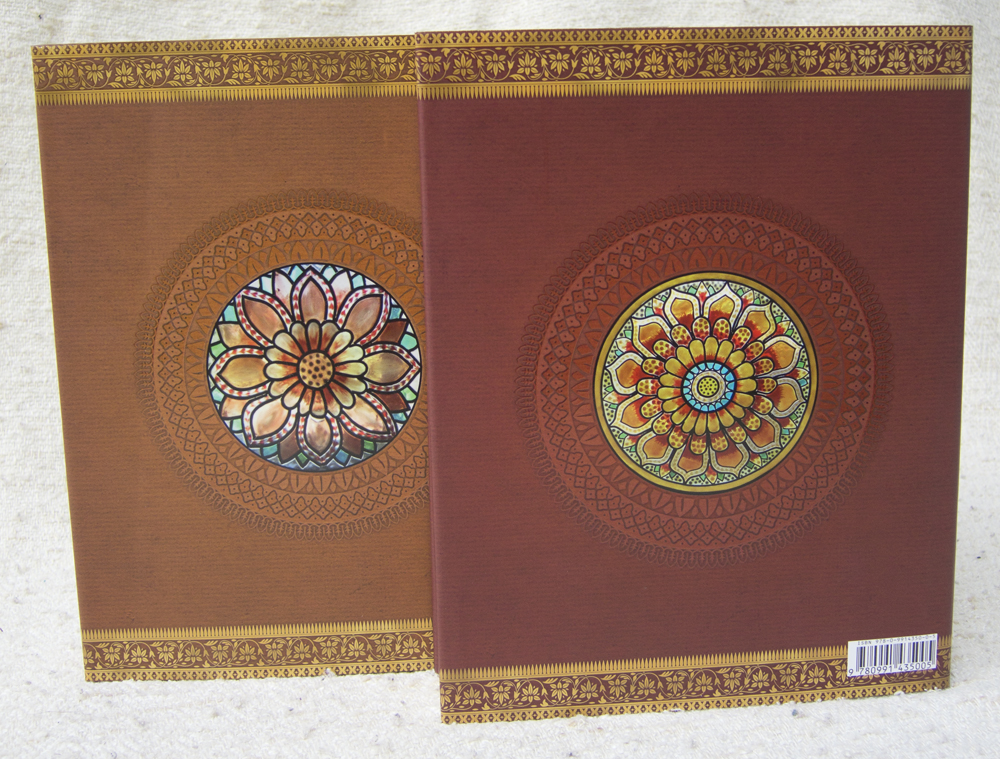 Cover Typography
After trying many calligraphy fonts that were similar to Yamuna's calligraphy but not quite right for the dust jacket cover, I decided to use Yamuna's own writing. The words in gold foil "Yamuna Devi" on the cover are extracted letter by letter from a prayer Yamuna devi calligraphed. For example because there was no uppercase 'Y' in this prayer, I modified a lowercase 'y' from the second line "My Lord …" Some letters I had a variety to chose from, others I was glad to find one that work. Since this prayer had no capital 'U', the capital 'U' in Unalloyed on the inside flap of the dust jacket is actually an upside down 'N' from the last stanza first line "… King Nanda."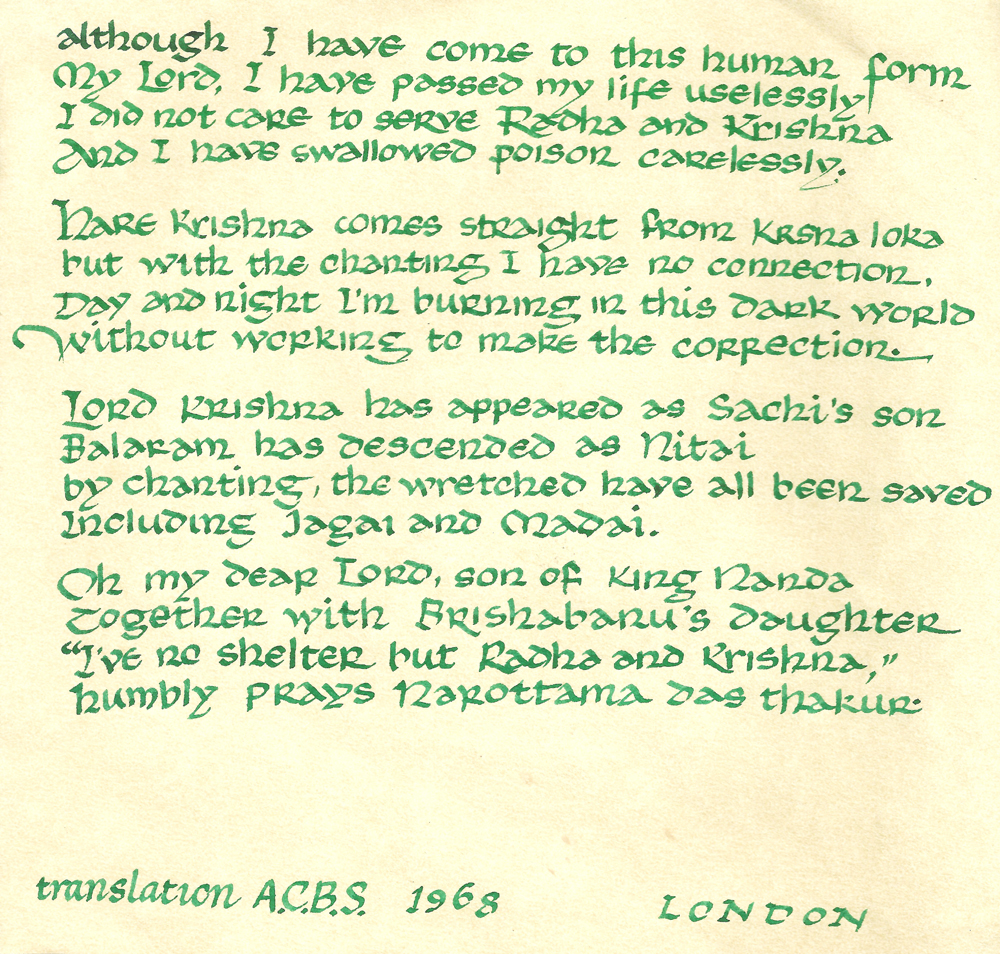 Cover Images
The cover image for Part 1 is a beautiful photo of Yamuna devi chanting japa in Vrindavan, India in 1970s. It required very little Photoshop work. The cover image for Part 2 was harder to choose and out of the 5 choices I presented, this one was chosen. This photo required masking out the background and lots of Photoshop work with contrast and sepia toning to get a similar mood to the cover image for Part 1.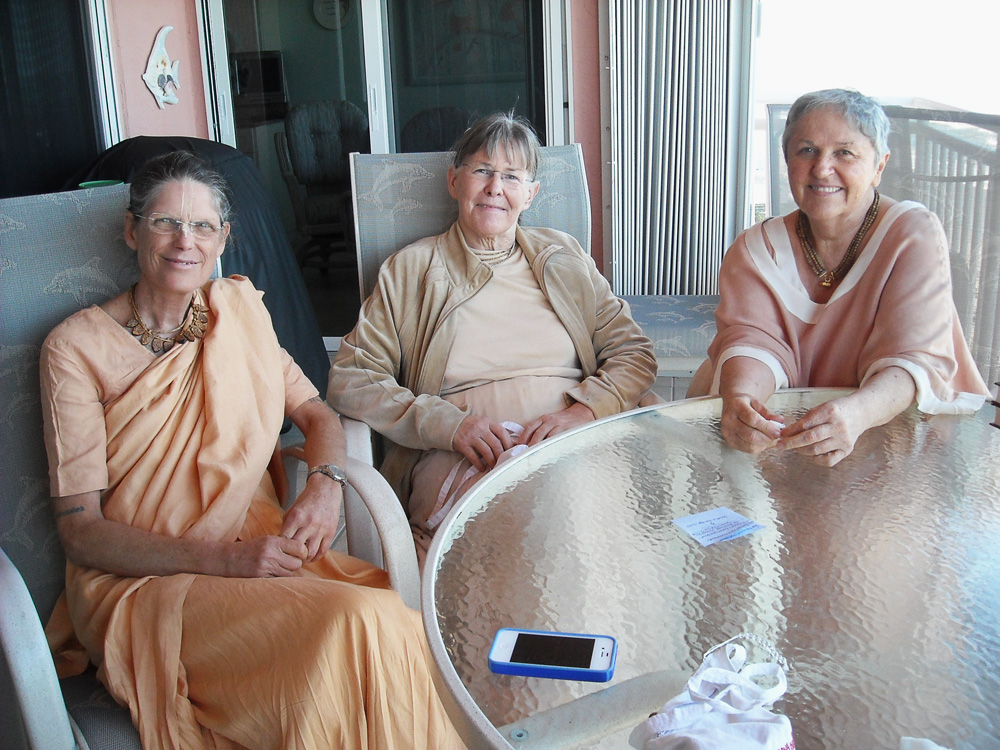 Text Design
It was important to Dinatarini devi and Kartamasa that the text design be elegant with decorative touches while still being organized with consistency and structure. The book must be comfortable to read and hold while accomodating many photos. The book size of 9.25 inches by 7.25 inches and wide outer margins to allow the photos to flow with the text, providing a rich, illustrated reading experience.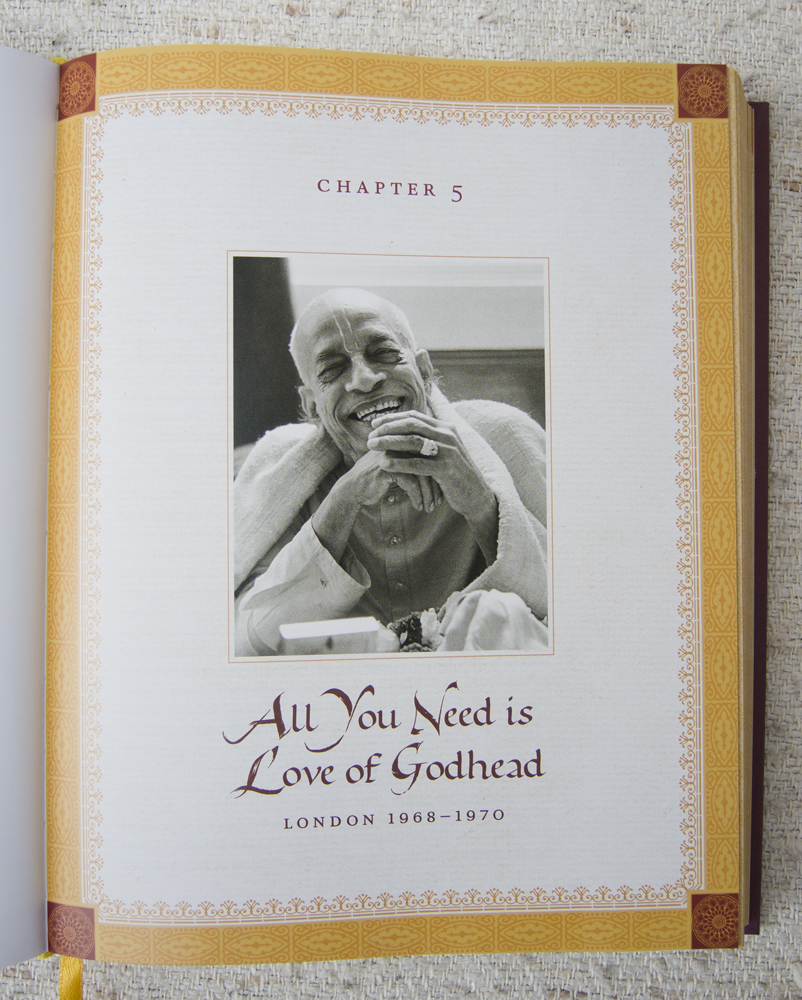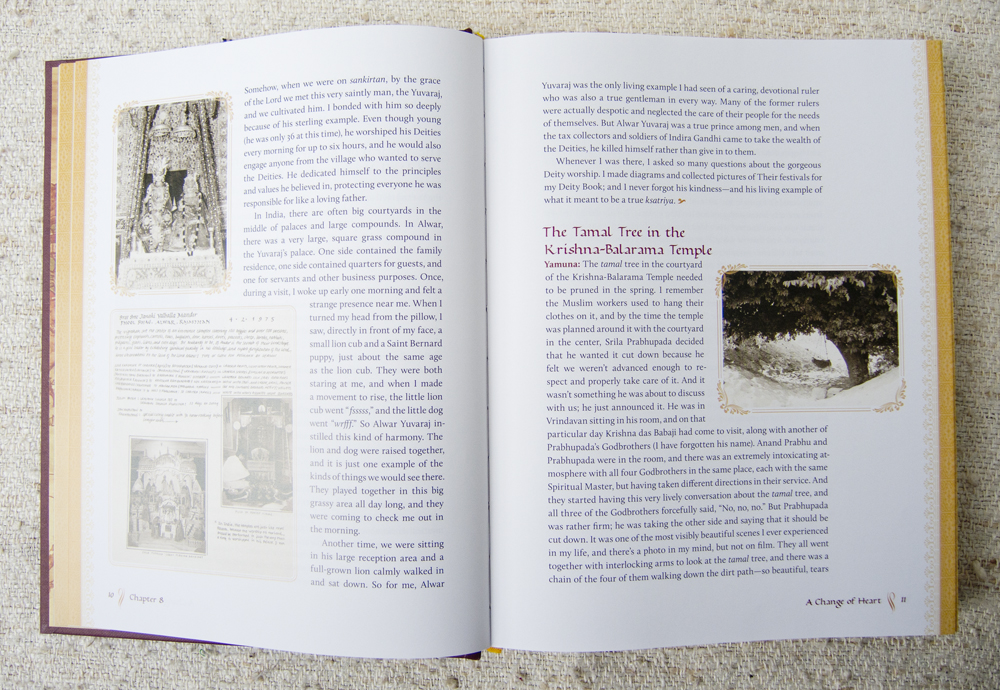 For the subhead font I chose Ramsey Foundation, an elegant but not too perfectly executed calligraphy font that was similar to Yamuna's calligraphy. The extravagant drop capitals on the chapter opening pages and the capitals on the title pages are from the font Last King Quest. The text font Calluna is refined serif text face with interesting details and an elegant italics. It fits beautifully with the decorative elements of the design while providing the seriousness needed for such an significant book.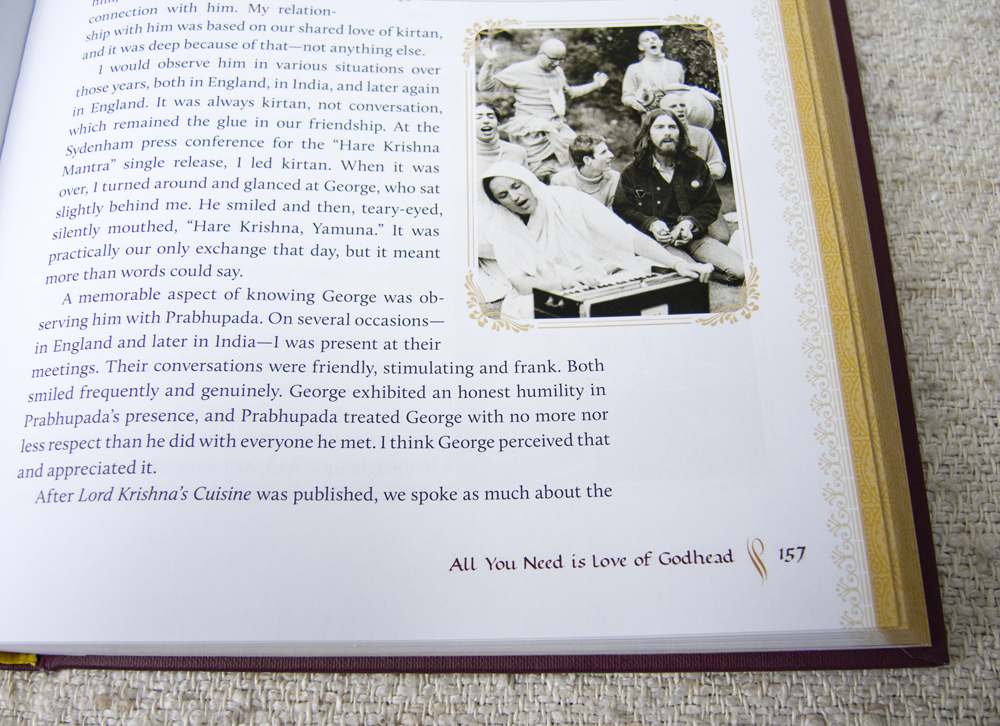 Yamuna's photos, calligraphed prayers, posters, and scans from her journal appear throughout the book. I also wove many of Yamuna's personal items throughout the book design. The endsheets are a muted warm yellow version of a stained glass piece she painted.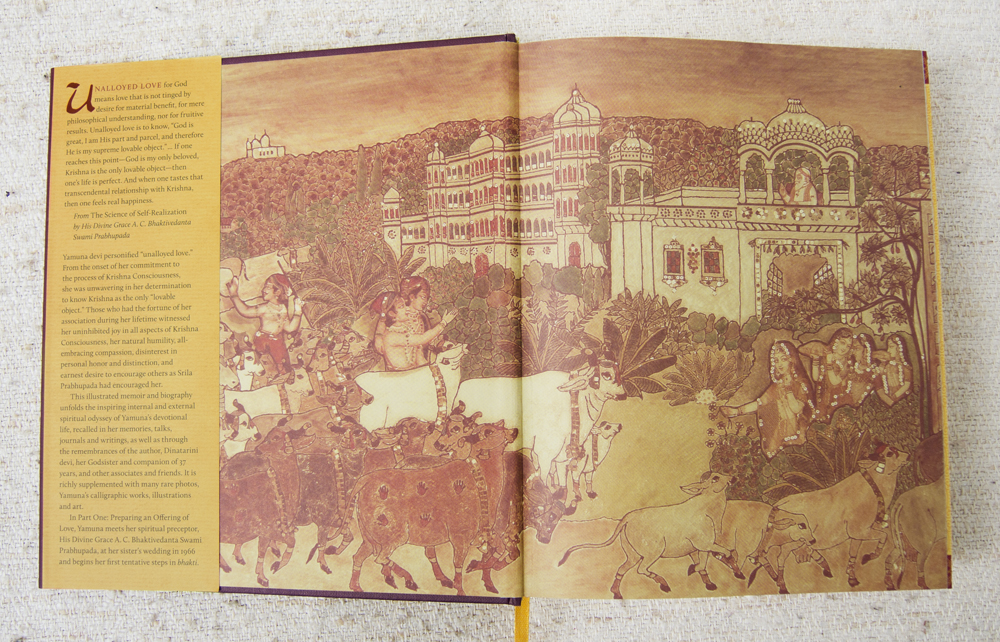 On the dedication page, her personal neckbeads garland the dedication to Srila Prabhupada.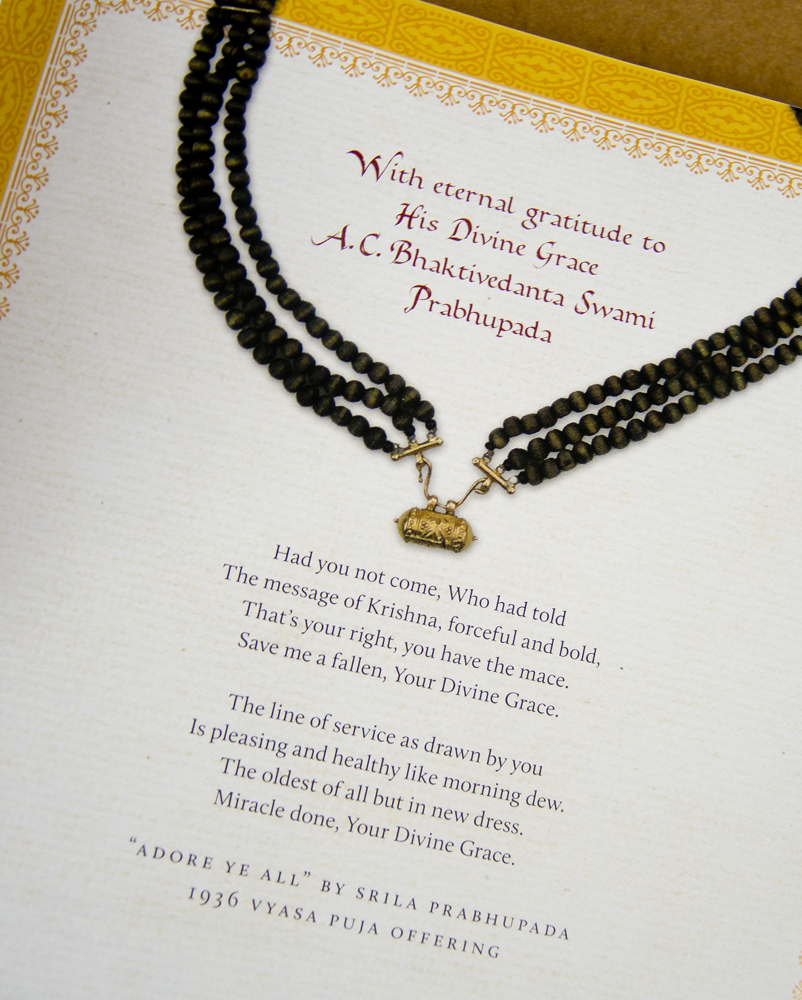 An outlined version of Yamuna's stained glass artwork is the recurring corner mandala appearing on the four corners of the chapter title pages. It is also the center element in the design printed on the boxed set packaging.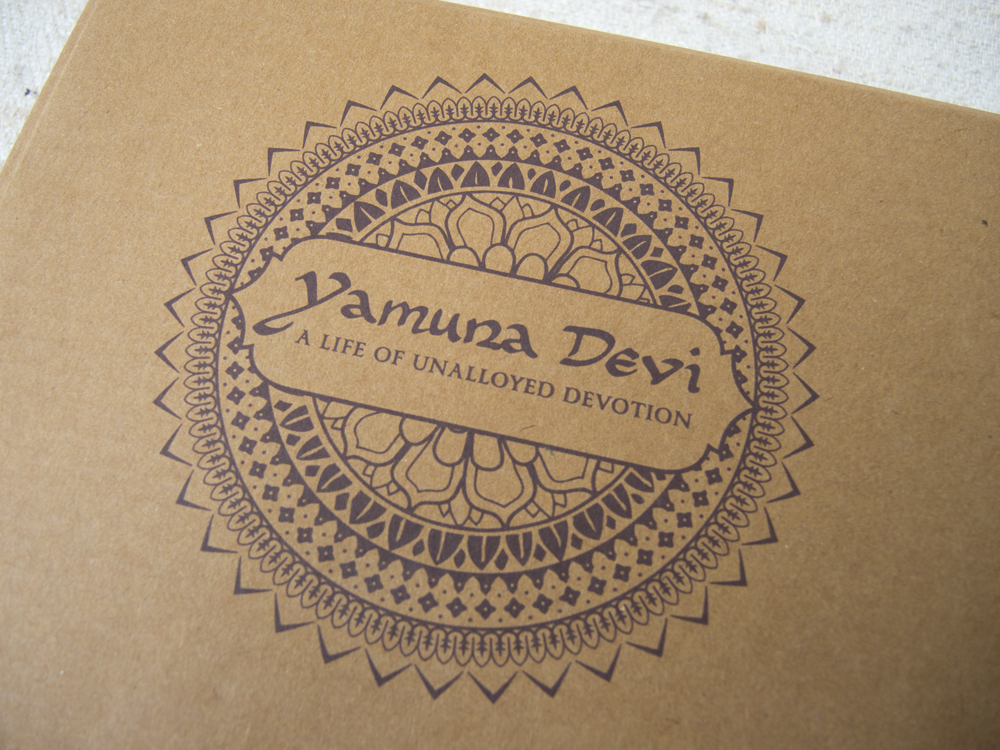 The lotus on the spine of the hard cover of the book is from Decorative Designs and Craftmanship of India, a beautiful book of art and designs from India she owned.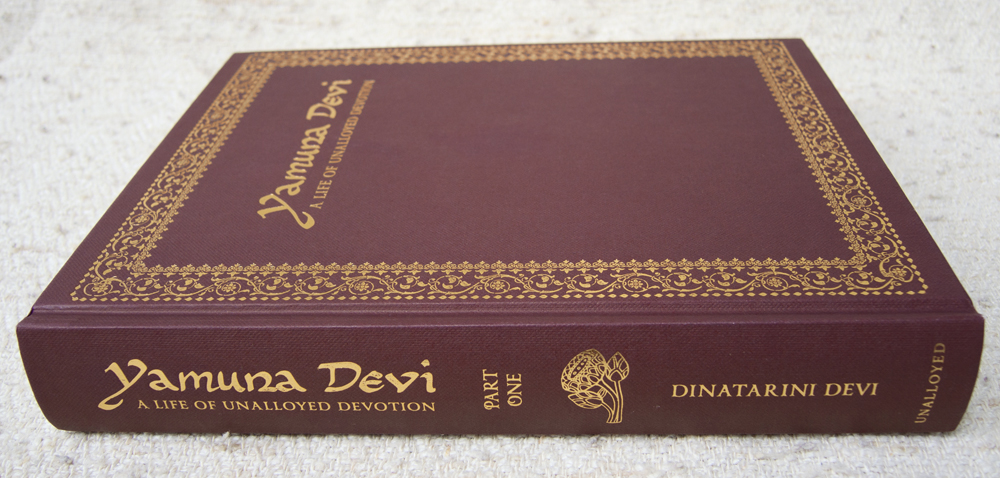 This set is a rich illustrated history of Yamuna's life of devotion and her years of personal service to Srila Prabhupada. It was such a pleasure working on this book project. I didn't know Yamuna before she passed away but getting to know her posthumously and be inspired by her through working on her book has been a blessing.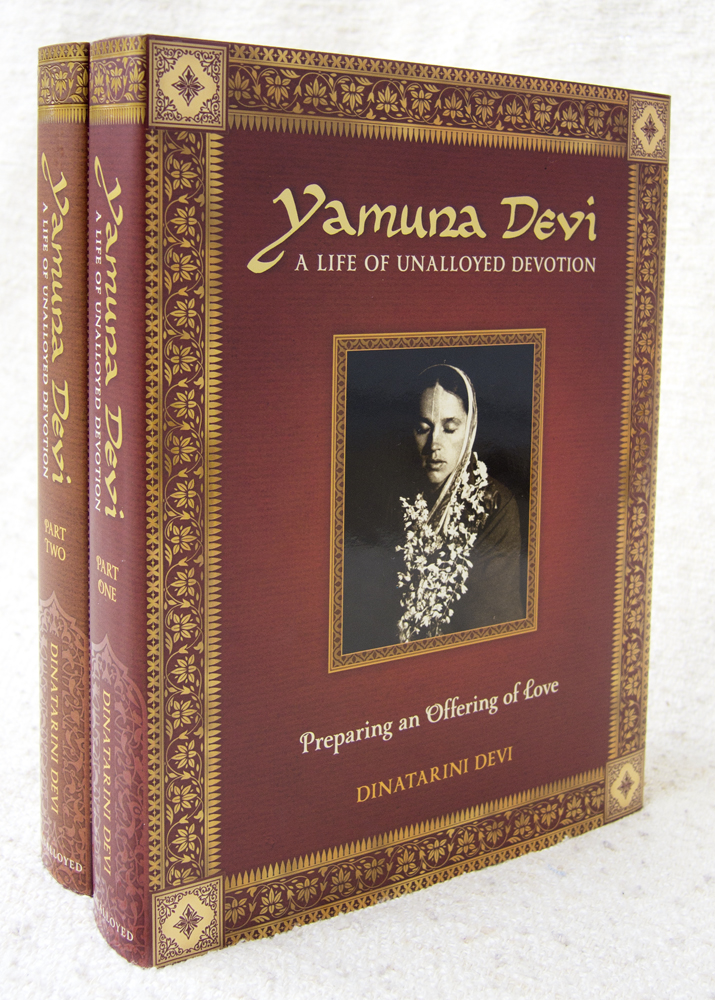 ---
Raghu Consbruck is a Florida graphic designer. Her website is www.raghudesigns.com